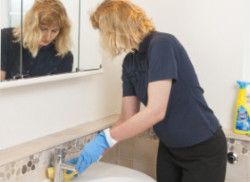 We are very dedicated and prestigious cleaning company that specializes in providing only first-class quality cleaning services for the utmost comfort of the customers. We are situated in Finchley, London and we have worked many years to be recognized as one of the top cleaning companies in the area.
If you happen to experience any kind of problems, concerning your end of tenancy cleaning we will be glad to perform this complicated procedure for you in a fast and perfect way. CleanersFinchley promise not to betray you but to accomplish the given task with professionalism and devotion. End of tenancy cleaning is an essential procedure that every tenant must perform before they leave the place of living.

You may want to perform it on your own, however, our advice is to turn to the services of our remarkable company and to forget once and for all about these preoccupations. We have hired
a team of professional cleaners that will do excellent work
, as they are very disciplined and punctual. We know that sometimes it is hard to trust unknown people but we assure you that we are the greatest choice for you.
Happy Clients Using our End Of Tenancy Cleaning Service in Finchley
"I used the services of this company to do the cleaning of the rooms which I have rented and they were very efficient. The cleaners made the flat spotless and impeccable."
– Reece, N3
End Of Tenancy Cleaners Finchley
For the immaculate implementation of each of the cleaning services we offer, we have chosen the most modern detergents that are appropriate for removing stains and dirt from every origin. The flexible working hours are another advantage that should be taken into consideration.
You can make an appointment at any time convenient for you and we are available seven days per week. We can come to perform the end of tenancy cleaning even at late nights so do not hesitate to contact us right now.
See our services:
Gardening Services Finchley
Upholstery Cleaning Finchley
Carpet Cleaning Finchley
Domestic Cleaning Finchley
Deep Cleaning Finchley
Oven Cleaning Finchley
After The Builders Cleaning Finchley
Office Cleaning Finchley
We will be glad to offer you the most reasonable prices for an end of tenancy cleaning in the Finchley area. The professional cleaners will pay attention to every detail so you will be absolutely content with the final results.
If you have any more queries, please contact our customer service centres, where a kind and welcoming team will be happy to assist you.
A reputable cleaning agency in Finchley N2, N3
Our cleaning services, based in the heart of Finchley, are about more than simply maintaining properties – they are also about preserving the soul of our cherished neighbourhood. Our professional crew members, that are also your neighbours, are not only familiar with the general demands of Finchley's landlords, but are also sensitive to the specific details that are unique to homes in Finchley N2 & N3.
Choosing a local cleaning company not only benefits our community, but it also assures that your services are delivered with a personal touch, understanding, and genuine care that is unique for Finchley N2 & N3. Being a local cleaning service provider, allows us to be at your door anytime you need us.
Unique Cleaning Services in Finchley, N2, N3, tailored to your needs
Understanding the Local Needs
Because we are situated in Finchley, we have a deeper understanding of the community's needs. We are aware of the usual issues that properties in N2 and N3 may have and that allows us to deliver cleaning solutions that are suited to the local customer.
Custom Solutions for Unique Challenges
If you have any personal requests or needs, let us know. We are happy to deliver custom cleaning services which we tailor to each of our customer's needs.
Comprehensive Cleaning Process
Discussion & Customized Plans
Before we begin the cleaning process, our specialists will perform a complete inspection of your property. This allows us to tailor a cleaning plan to the specific needs of the property as well as your expectations.
Step-by-Step Cleaning Process
We will create a detailed task list that will be followed by our professionals. That way, we make sure that every task has been completed, including vacuum cleaning, dusting, polishing disinfection and more.
Customer Satisfaction: Our Top Priority – What Our Customers Have to Say
We take pride in the excellent reviews we receive from our regular clients. Their recommendations speak volumes about our commitment, expertise, and attention to detail. But don't just take our word for it – find out what Finchley locals think about our services!
How we Develop Every Aspect of our Cleaning Services
We believe in progress and development. Constructive feedback is a necessary step towards perfection. Every criticism is a chance for us to improve something in the future and deliver even better cleaning results next time.
Key Benefits of Choosing Our Services
Deep Cleaning Methods
The deep cleaning, we perform is about a lot more than surface cleaning. It involves thorough wiping down and disinfection of all hidden and hard to reach spots, removing bacteria, grime and germs.
Specialized Equipment for the Best Results
We can truly make a difference thanks to the right equipment. We only use the best cleaning products and tools available on the market.
Crafting Spotless Farewells in Finchley N2 & N3
Our goal extends beyond simple cleaning; we want to deliver a smooth and stress-free experience amid the stress of relocating. Our professional cleaning service provider in Finchley N2 & N3 is committed to providing help with the transition to your next chapter. Your memories in your old house are priceless, and we make certain that they are not overwhelmed by the tedious cleaning. Enjoy the thrill of progress and leave the thorough cleaning to us.
FAQs
WWhat makes professional cleaning so important at the end of tenancy
Thorough cleaning (especially performed by professionals) is an essential part of the moving out process. It is usually mentioned in your contract and your landlord will expect their property in pristine condition so it is ready for the new tenants that are about to move in.
How do I make an appointment with you?
Our customer support centres are available 7 days a week and are the easiest way for you to book a service with our company. Give our agents a call and tell them about your needs and expectations.
Can I book a service in advance?
Yes! In fact, booking in advance is always a good idea. That way, we will have time to prepare the task list, our cleaning professionals and perfect the entire service.
What makes your cleaning service unique in Finchley N2 & N3?
Our custom cleaning services, experienced cleaning professionals and high-quality equipment allow us to deliver exceptional cleaning solutions to all customers./p>